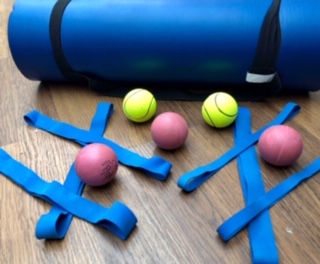 Saturday 13th July 10.30 am – 1.30 pm
St James Church Hall, Milton Road, Portsmouth, PO4 8PG
(Car park available)
Join us for a three hour educational, fun packed morning of mat based Pilates using mini Therabands and small balls
Price: £35.00 (payable on booking)
This includes:
3 hour Pilates mat based practical workshop
Full workshop notes and pictorial guide
Free mini Theraband and small ball to take away
Healthy snack and refreshments
Resistance bands and small balls are widely used within the Pilates repertoire to help increase muscular strength, release tension and improve flexibility whilst reducing the risk of injury.
Our three hour workshop will give you the key tools and techniques on using this equipment to strengthen your body whilst improving your posture and flexibility.
So, whether you're a beginner or regular Pilates attendee, this practical workshop will leave you motivated and full of inspirational ideas on how to include bands and balls in your workout.
To book or for further information please contact:
Sally Carter: 07711 769349
Jacqui Der Karapetian: 07716 730230
Facebook 'Healthhub' or 'Pilates Classes Portsmouth'