WOW! What a fun filled, exercise class packed 3 days Sally and I had!  Just so much going on, we were spoilt for choice and the whole of the Winter Gardens venue was buzzing with loads of energy!
There must have been more than 150 classes over 3 days (Sally & I took about 17 classes each!). These included:
High intensity, mega crazy classes like Insanity,  P90X, Piloxing Knockout, The VIIT Project (with Richard Callender – Biggest Loser)
Spinning, High energy and conditioning classes like Total Body Conditioning, Piloxing, Kettfusion
Abs & Core sessions (Katie bulmer Cooke was there – from Apprentice),
Aerobic & dance classes like  Step, Clubbercise, Bokwa, Doonya, Fitsteps, and even Chico was there (it's Chico time!) promoting his new Block Fitness class and of course loads of Pilates, Yoga & Stretch sessions for our tired & sore bodies!
My favourite classes had to be Insanity, Piloxing Knockout, Piloxing, VIIT and Pilates/stretching ones but all classes were packed, motivational and inspiring and gave us loads of new ideas.
A few pictures:
PILOXING KNOCKOUT – a new high intensity workout, mixing up plyometrics with functional core training.  Am pleased to say Sally and I survived two of these classes and even did the pike jump, as seen in the 2nd picture, but maybe not that high!!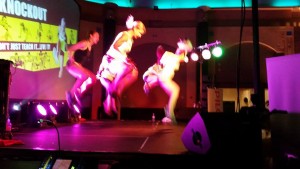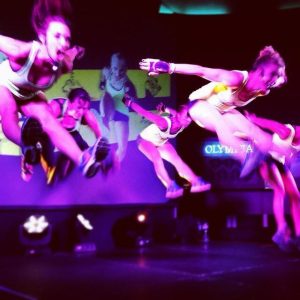 PILOXING – all instructors were asked to be at the front – no pressure then!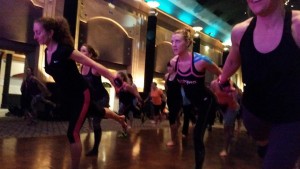 CLUBBERCISE – great fun with glow sticks, disco lights and club anthems!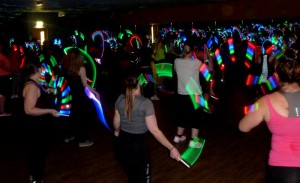 Whether you are an instructor or not, if you love everything to do with exercise and fitness, this is for you!  It is a true test of your body's ability to keep going and I never thought I would be able to do as much exercise as I did without injury or giving up.  The presenters are also incredible and, just as I thought 'enough is enough', their enthusiasm, motivation and energy helped to re-energise and challenge me – don't know where it came from but it did and could do it all again right now!
Roll on IFS 2016!